The ocean Cleanup to end the Great Pacific Garbage Patch
The Ocean Cleanup, a non-profit organization, continues its mission to remove 90% of floating plastic that pollutes the water bodies like in the North Pacific Ocean by developing and scaling artificial coastlines that trap the plastic for easy extraction. Now, they are developing the third phase called System 003 after their successful System 02 test. The third one has a cleanup system that extends 2,500 meters in total length and by introducing a third vessel into the operation. The increase in span means an increase in the rate of plastic captured in the operations. The reiteration of their mission to end the Great Pacific Garbage Patch can be seen in their recently uploaded video (above).
Using computational modeling, the team predicts the hotspots where their cleaning systems should be placed in. There, they will arrange their C-shaped coastline which produces circulating currents that help the plastic within the targeted garbage location move toward the retention zone. As the vessels that hold the artificial coastlines glide through the water – their wingspan, speed, and direction are corrected and maintained – they accumulate plastic and trash. Once the system becomes full, the net is sealed off, detached from the system, taken aboard, and emptied on the vessels. The cycle continues from here.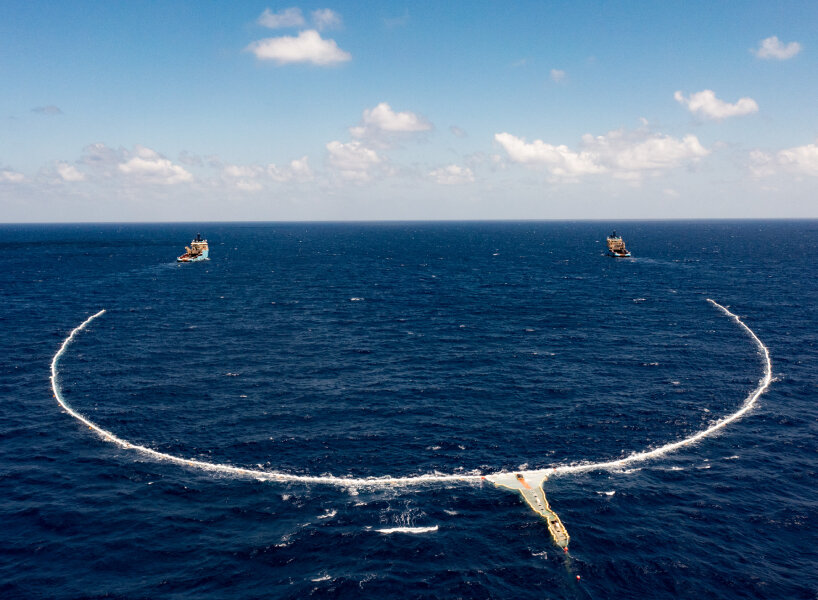 images courtesy of The Ocean Cleanup
Catch, rinse, recycle, and repeat
The Ocean Cleanup writes that they bring the accumulated trash and plastic to recycling facilities and even plan to recycle the found trash and plastic as objects and products. 'Catch, rinse, recycle and repeat – until the oceans are clean,' the team writes. The Ocean Cleanup aims to devise floating systems designed to capture plastics that range from small pieces, as tiny as a fleck of plastic, to large debris, including discarded fishing nets.
To achieve such an objective, they are working on closing the sources of plastic pollution and cleaning up what has already been accumulated in the ocean. Active steering and computer modeling help the team target plastic hotspots-areas of higher concentration 'Our models will be steadily improved using field data collected during our offshore missions, allowing for continually smarter operations and more focused cleanup,' the team writes.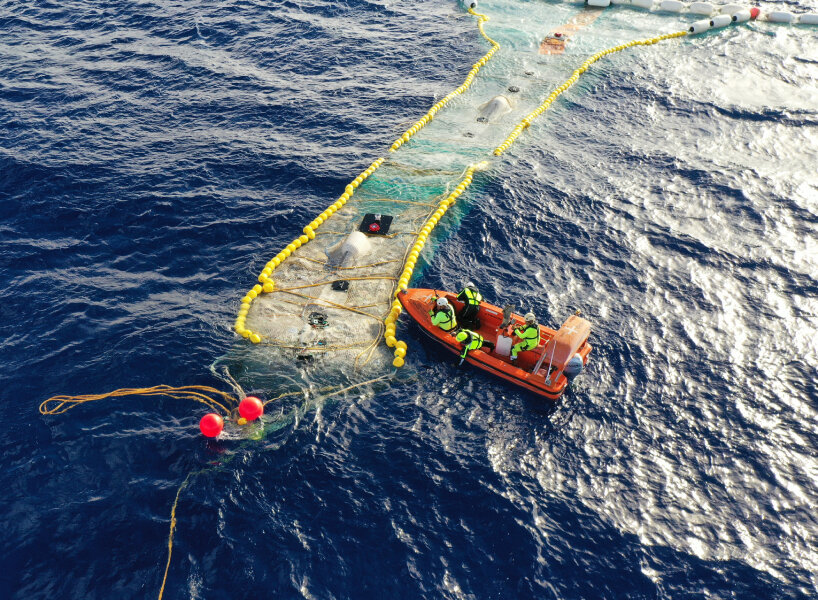 System 02 of The Ocean Cleanup
Design Prize nominee for social impact
The Ocean Cleanup launched its first cleanup system called System 01 in 2018 in the North Pacific as a test run. After four months offshore, they returned to land to study what they learned from the system and kicked off to introduce System 02 in 2021 for a 12-week test campaign that, in the end, harvested tons of plastic. The team is working on creating System 03, an upscaled version aimed at being the blueprint for its scaled-up fleet in the future. The Ocean Cleanup aims to remove 90% of floating ocean plastic by 2040 and was nominated in the 'social impact' category of THE DESIGN PRIZE 2019.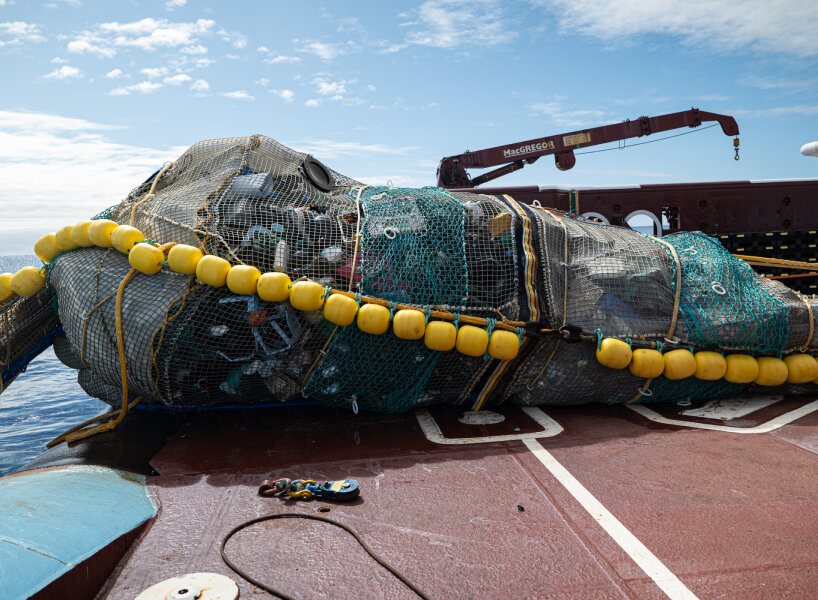 accumulated trash of System 02