Water Strider for children with cerebral palsy
Four-year-old JR Ellis loves to swim and play in the pool, but his cerebral palsy, a neurological disorder that affects his muscle control, prevents him from doing so on his own. Enter Josh Breighner, a student in the Doctor of Physical Therapy program at the University of Hartford, who introduced a floatation device named Water Strider, designed for children with cerebral palsy who love to float, glide, splash water, and paddle in the pool. Sara Ellis, JR's mother, shares that from a parent's perspective, the invention is a game-changer.
The mother of JR adds that when a parent's child has a disability and cannot use the common water toys, they cannot just drop by a store and find something that suits their child's needs. 'The Water Strider is incredible because it gives JR independence, which is something he does not have a lot of. He just lit up when he used it,' says Ellis. Breighner and the University have filed a patent application for it, and the student hopes to find a company that would help develop the device and make it commercially available in the future.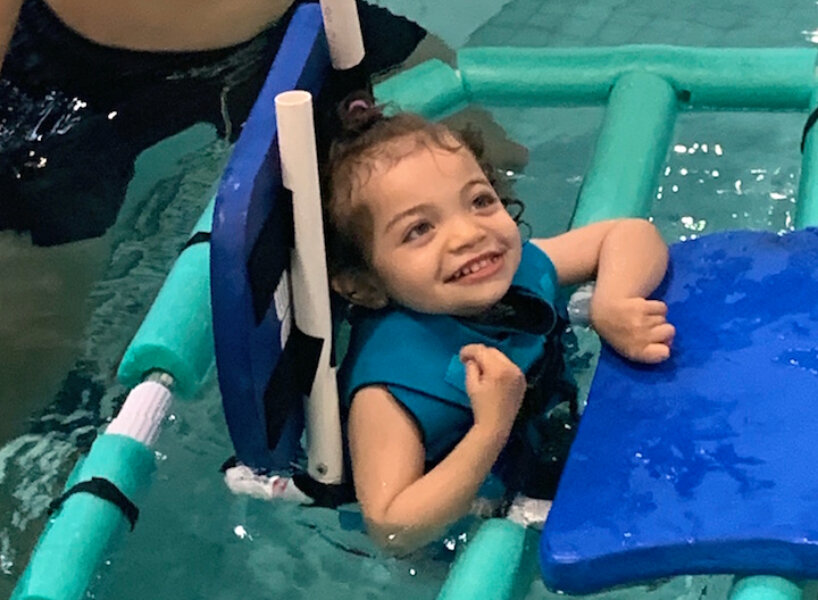 images courtesy of University of Hartford & Water Strider's research team
water strider with PVC pipes & pool noodles and skimmers
Breighner's work came through as part of a research project with faculty members Sandra Saavedra and Donna Snowdon. He and his research team tested the Water Strider with eight children using the pool at the nearby Mandell Jewish Community Center in West Hartford in the spring and summer of 2019. They witnessed how children with milder cerebral palsy were able to kick and launch themselves around the pool while children with more severe cerebral palsy were able to stay upright and engage with their parents and other children in the pool.
'The kids could spend half an hour in the pool and not be exhausted. It was a huge difference,' says Breighner. For his design, Breighner uses common materials such as PVC pipes, pool noodles, and pool skimmers for Water Strider. For children with more severe cerebral palsy who need extra support, he added a headrest and tray support made from foam kickboards. The Water Strider also includes a neoprene vest with Velcro to firmly hold the child in place.

Josh Breighner invents Water Strider so kids with cerebral palsy can freely enjoy swimming
Lack of support from commercial pool toys
For this project, Breighner and Saavedra wanted to develop a device that would provide enough trunk support to keep a child upright in the water and freely allow them to move through the water without assistance or support from their parents or swimming coaches. The desire stems from the team's observation that commercially available pool toys lack enough support for children in holding their heads above water.
Josh Breighner says that the process of developing the Water Strider moved quickly, from testing a preliminary design in his bathtub to working with children in the pool in only a few months. He adds that his long-term goal is that 'you walk into an aquatic therapy facility and see the Water Strider. It can be used for so many populations – children with cerebral palsy, or adults with spinal cord injuries. This can help even more people enjoy being in the water.'

Breighner hopes to find a company that would commercially produce Water Strider
project info:
name: Water Strider
designer: Josh Breighner
faculty: Sandra Saavedra, Donna Snowdon
institution: University of Hartford
matthew burgos | designboom
sep 14, 2022