Peloponnese Rural House BY studio Ivana Lukovic
Surrounded by olive groves on a remote plot in Kalamia, Greece, 'Peloponnese Rural House' by studio Ivana Lukovic is a private dwelling that maintains a connection to the natural environment by using regional low-maintenance materials. Reclaimed stone, handmade washed-wood, and cement create a rich material palette, which, along with wide open spaces, offers a retreat from the demanding urban life for a young family of three.
The house was developed in accordance with contemporary sustainability standards, and coexists harmoniously with the natural environment without compromising the initial architectural proposal. It also plays a major role in providing its inhabitants with both a safe and comfortable space. Meanwhile, the look and feel of its interiors echo the past traditions while contributing to the materiality richness.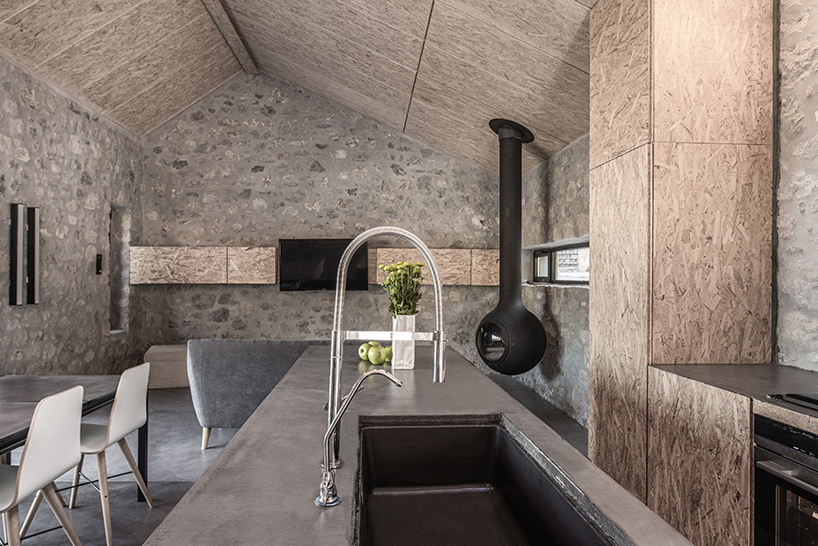 communal space with custom-made plywood furniture and a hanging fireplace
all images courtesy of Athina Souli
reinterpreting the industrial feel of a countryside stone stable
Considering that the site has a slope with a six-meter height difference from top to bottom, design studio Ivana Lukovic raised a two level construction in the garden using local stone. This material choice also blends the residence into the neighborhood discreetly, and gives it a modest appearance.
This villa takes its cues from the industrial feel of a traditional stone stable, typical of the Peloponnese countryside, with its long, low, and tiled roofs. The entrance is approached by a ramp and represents the communal space of the dwelling. It is connected to the large openings and the outdoor observation platform, which is suitable for stars-gazing and experiencing the distant view of the sea. Additional openings were created on the roof, the South-West, and the North-East sides of the building to improve natural light and ventilation.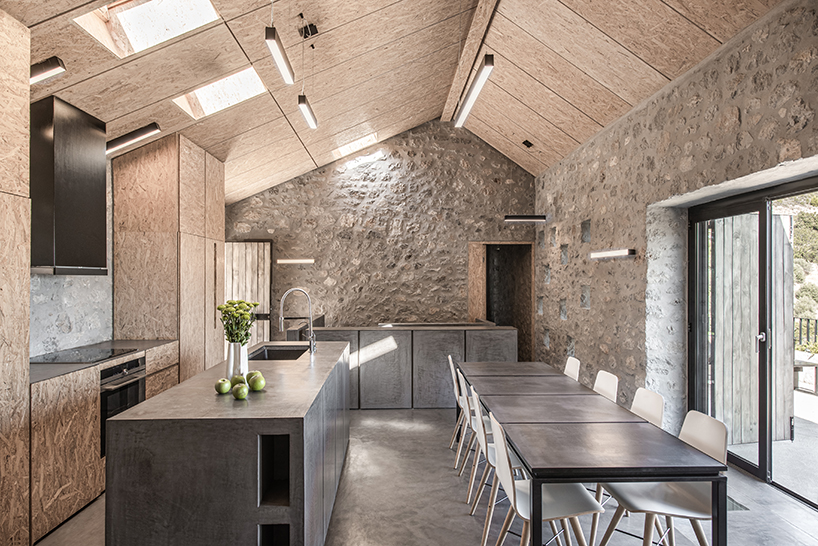 interior kitchen and communal space with minimalistic furniture that blend with the space
locally sourced materials pose environmental benefits
Environmental and local economic benefits have been accomplished by specifying craftsmen and natural materials within a 100-mile radius of the construction site. Reclaimed stone, applied on the elevations and at the entrance level interior space, was sourced from the nearby storage and supplemented with a new one from a local quarry. Washed wood shutters were handmade in recycled wood and black metal frame. Cement mortar in two shades was created on site to cover floor surfaces along with custom-made plywood furniture, whereas white oil treated OSB was used for the rest of the built-in equipment.
The link with the garden is established by a cantilevered, concrete staircase. At the lower level, slab's perforations in the interior corridor create a private area with a cave-like atmosphere. Two courtyards offer direct access to the garden from the rooms, and encompass a space for meditation and relaxation. The simple, bespoke furnishings in the bedrooms, guest suite, and bathrooms convey a monastic atmosphere.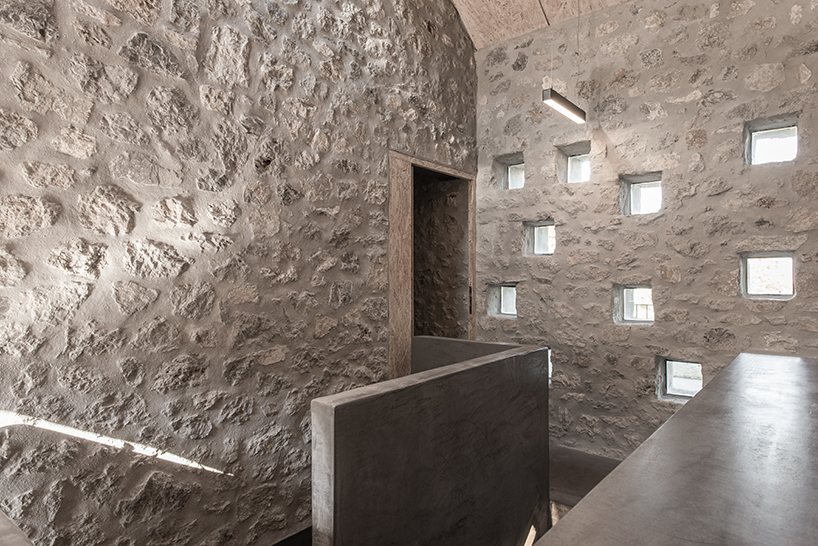 reclaimed stone perforated wall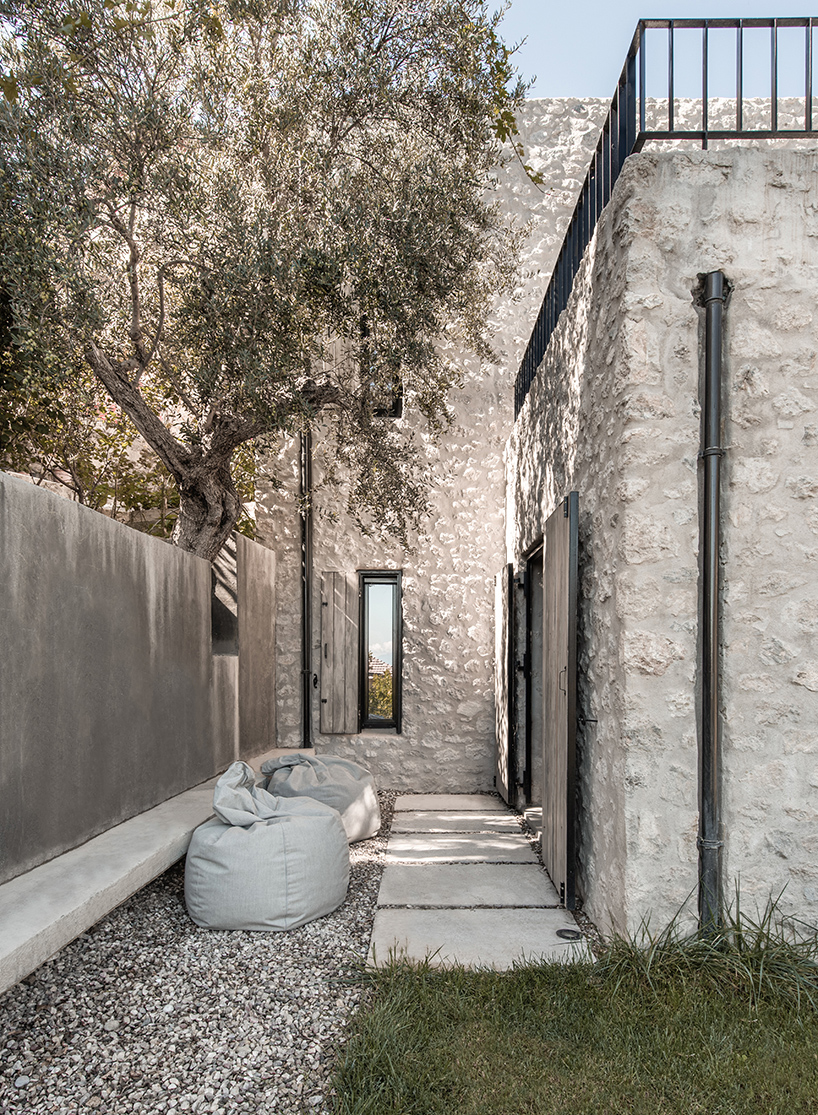 outdoor space leading to olive tree atrium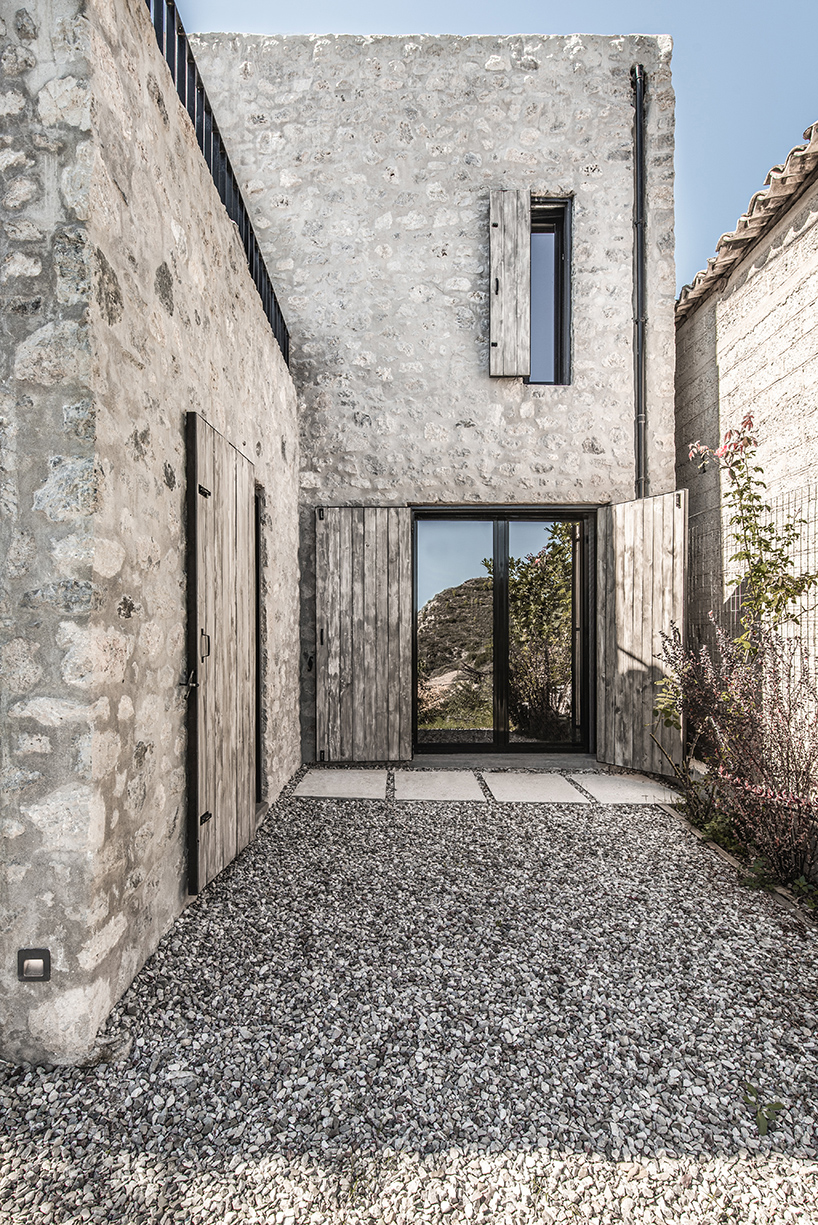 path leading to guest atrium