PAVA breathes new life to brick tobacco barn in chiang mai
In Chiang Mai, Thailand, PAVA architects has transformed an old tobacco processing site into a new teahouse that respects its surroundings. The project, named 'Kaomai Tea Barn,' preserves the character of the existing barn and reconstructs the preserved bricks with modernized steel and reinforced concrete. In this way, the new design revives an industrial typology that has been forgotten, while still presenting a contemporary esthetic. Thanks to its permeable character and lighting elements, the building glows in the dark, further highlighting the beauty and authenticity of the old tobacco barn.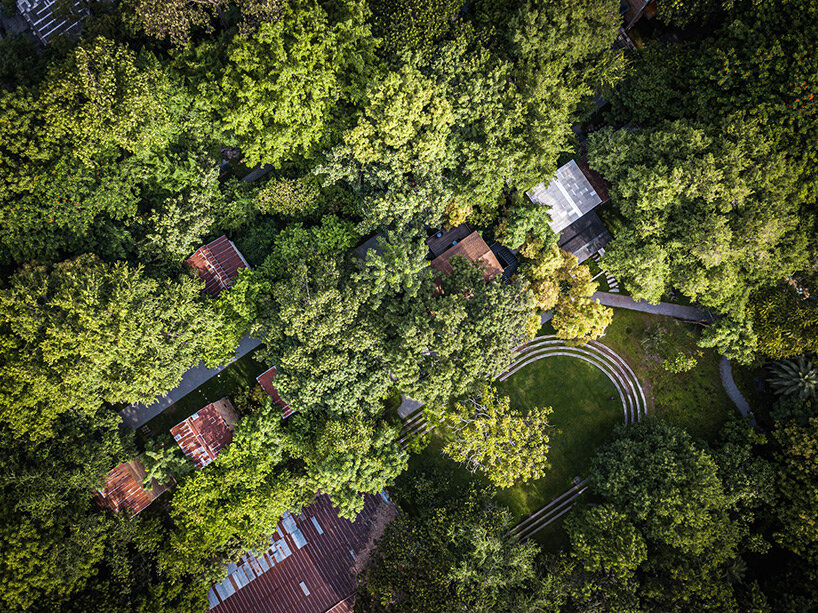 all images by Spaceshift Studio
a new teahouse that glows in the dark
The new design by PAVA architects respects the specificity and authenticity of the historic barn, preserving its architectural dimensions, forms and materials, including the repetitive 6 x 6 meter planning typology. The new teahouse is designed to sink into the ground, further emphasizing the authentic volume that rests on the ground and creating a modest connection between the two buildings and the surrounding landscape.
The team at PAVA designed the new tea room to glow in the dark. The lighting elements are designed to be hidden from view while highlighting the values and authenticity of the Tobacco Drying Barn. To highlight the authentic brick surfaces and unique vertical interior, the linear lighting, and softly glowing downlight are subtly integrated into the site-built concrete, wood, and dark gray structure. Through the proposed lighting design, the contrast between the solidity of the tobacco drying barn and the new opening space becomes a modest design experience along the historic pathways, and existing architectural and natural heritage.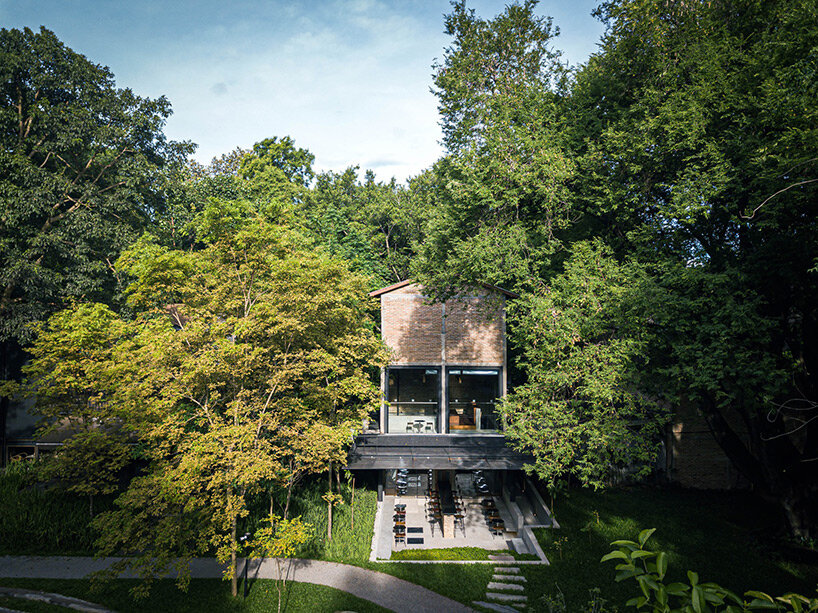 As part of the incremental plan to unite new commercial programs in the estate, the project is carefully placed to respect, yet link the surrounding ecology, landscape, and existing buildings together. As a result, the design by PAVA envisions Kaomai Tea Barn as a connection platform to link the surrounding Kaomai Avenue, the Amphitheater, and Kaomai Cafe both horizontally and vertically.
Under the umbrella of the 'Historical and Ecological Tourism' framework, Kaomai Tea Barn is another vital part of the holistic Masterplan which could economically, socially, and environmentally grow through time. The project once again encourages visitors to appreciate the aesthetic of the preserved tobacco drying barns and rich nature, as well as learn about the local history, native plants and ecology on site. The project brings back the role of the tobacco processing estate in the past, serving as the social and economic center of the community and enhancing nowadays' spirit of local inclusion and creating social sustainability.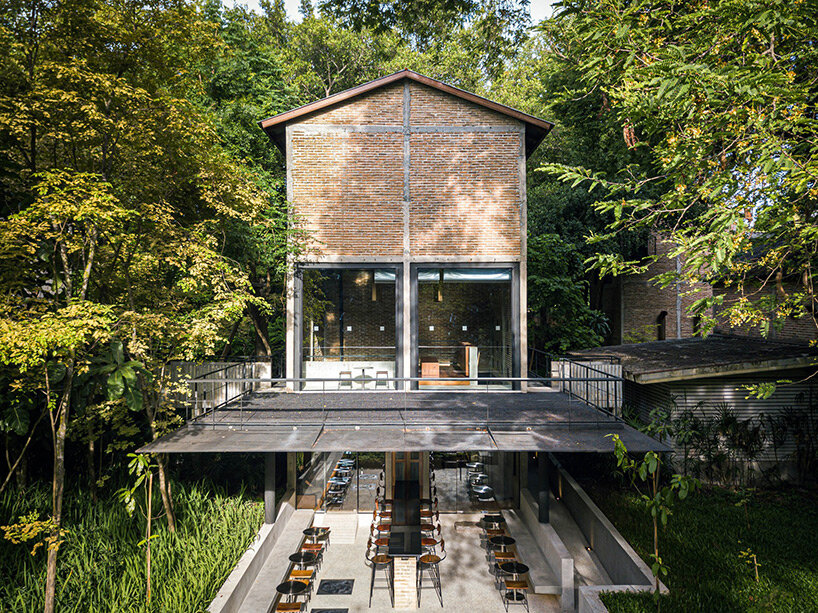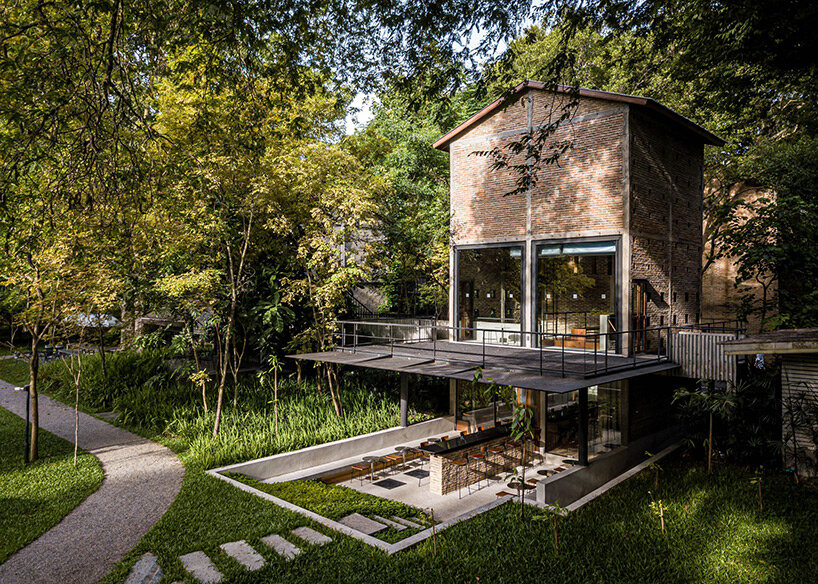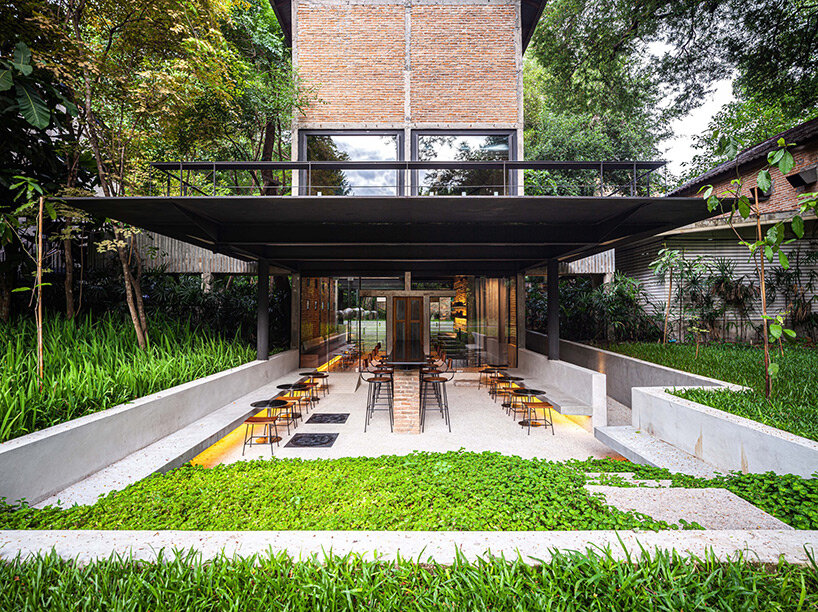 project info:
architect: PAVA architects
lighting design consultant: Vasapol Teravanapanth
structural engineer: Nil Khamaoy
location: Chiang Mai, Thailand
area: 210 sqm
myrto katsikopoulou I designboom
sep 20, 2022