Olafur Eliasson for 'Nel Tuo Tempo' in Palazzo Strozzi
'Nel Tuo Tempo' translates as 'In Your Time', a seemingly look as to how transition takes place, whether it is a transitory period to witness or a memory to embed in one's mind. For Icelandic-Danish artist Olafur Eliasson, such thought forms only a part of the whole scheme. He envisioned creating a meet-up space between art, architecture, and culture aficionados. He materialized this idea with 'Nel Tuo Tempo' in Palazzo Strozzi, the artist's largest exhibition in Italy to date. Light, shadows, reflections, patterns, saturated colors, and VR technology interweave in site-specific installations and sculptures of the artist, a meeting between his new and older works that address subjective perception and shared experience within the Renaissance architecture of the palace.
Eliasson sees the exhibition location as an entity that has traveled through centuries to greet the present community, acting as a co-producer of the exhibition rather than just a body to present his artworks. He nods to his visitors too when he says they have traveled as well, 'each mind and body different from the others. On individual journeys – with diverse backgrounds and experiences – we meet up in the here and now of the exhibition.' Olafur Eliasson's 'Nel Tuo Tempo' in Palazzo Strozzi, curated by Arturo Galansino, lasts until January 22nd, 2023.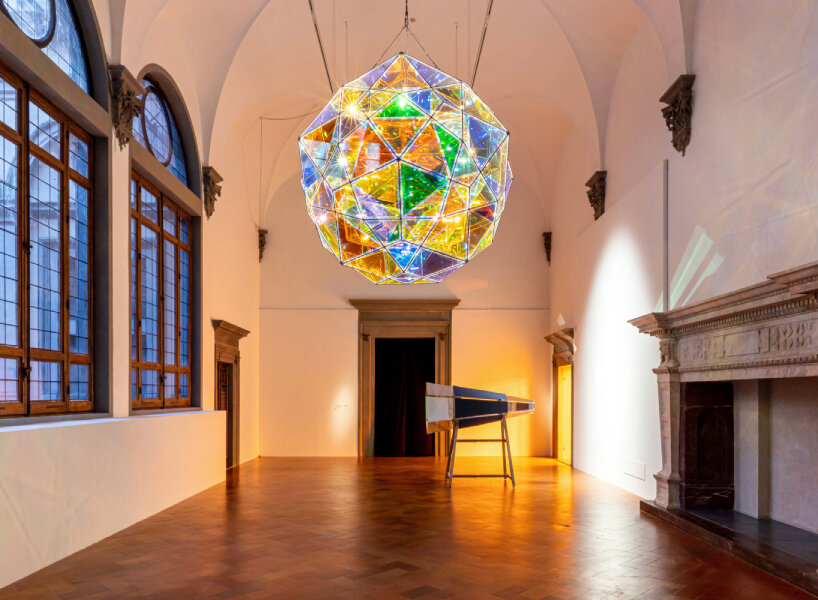 images courtesy of SUTTON | photos by Ela Bialkowska, OKNO Studio | header image: Olafur Eliasson, Under the Weather, 2022 | image: Olafur Eliasson, Firefly double-polyhedron sphere experiment, 2020 & Colour spectrum kaleidoscope, 2003
Inquiry on the limits of space and perception
The practice of Olafur Eliasson spans installations, paintings, sculptures, photography, and film, and visitors experience how he swings between these mediums as he hangs structures, places spotlights, toys with light, refracts reflections, and inquires on the limits of space and perception though 'Nel Tuo Tempo.' Upon entering Palazzo Strozzi, Under the weather (2022) welcomes the visitors with its elliptical structure over 10 meters tall, dangling over their heads 8 meters above the ground. The moiré effect it conjures exploits one's attention as its movement shifts with every move, the theme of perception coming into sight. Eyes down from looking above, the visitors enter Piano Nobile where the first three rooms – Triple Seeing Survey, Tomorrow, and Just Before Now – anchor Eliasson's installations that employ lights, colors, and shadows. People walk and shadows follow – everyone sees the movement, in and out.
The arc of cyclicity climaxes in How do we live together (2019) and Solar compression (2016). The former sculpts a large half ring that connects to the mirror placed on the ceiling, creating a full circle while expanding the visual space of the room. It ushers in the thought of two halves forming a whole, the missing piece falls into the place once the puzzle finds its other parts. The latter projects a disc with mirrors on each side, gently rotating against the movement of the air while suspended in space. It emits bright yellow light that floods the room with brightness enough for the eyes to take time to adjust to the shift in saturation, an indication, perhaps, of one's adaptability that may, at times, take a moment before it morphs to the new reality.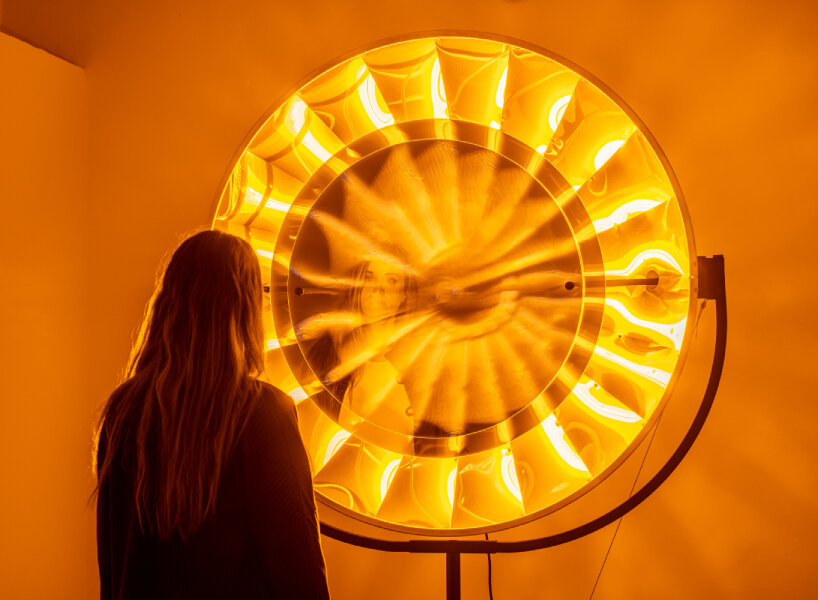 Olafur Eliasson, Eye see you, 2006
Displaying one's shifting perception
Light prevails in the other rooms. Beauty (1993) reminisces about a still rainbow flashing over a misty waterfall. Colour spectrum kaleidoscope (2003) consists of dichromatic mirrors of different colors, shaped in a hexagonal kaleidoscope. Eliasson sees kaleidoscopes as a fact of one's fragility and flexibility to be disorganized and reconfigured, his playful approach to elicit different perspectives and views about the world. He has dabbled into VR technology too as he presents, for the first time,Your view matter (2022) in the Strozzina space of the palace. Here, visitors enter a digital world with six virtual spaces and interact with the complex geometry and the Platonic solids that Eliasson conceived. From virtual to present reality, Olafur Eliasson moves between borders for 'Nel Tuo Tempo', always considering shifting perception in the light of lights.

Olafur Eliasson, Red window semicircle, 2008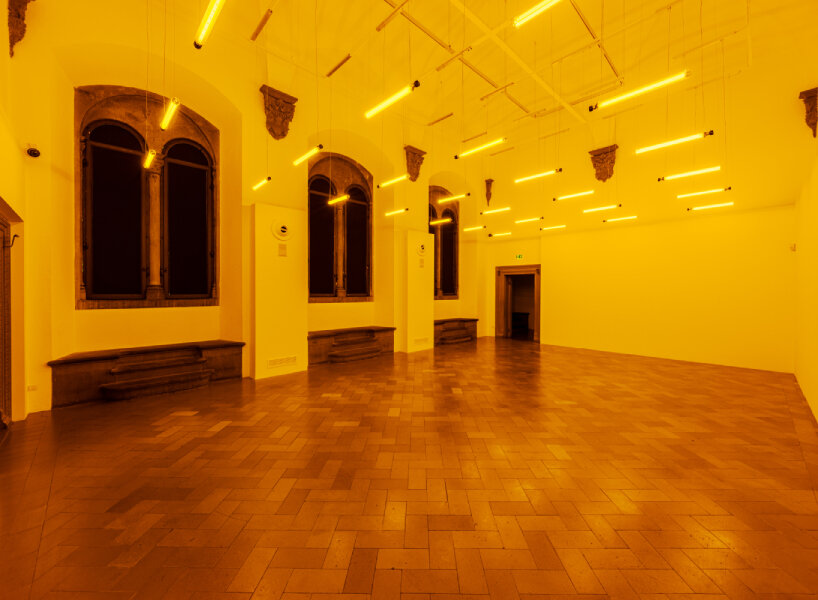 Olafur Eliasson, Room for one colour, 1997