Yasun seaside residence by Ninkipen!
Amid the rugged landscape of a national park in Japan's Wakayama Prefecture, architecture studio Ninkipen! designed a concrete residential building that offers expansive views of the Pacific Ocean. Taking the local seaside climate into account, the structure was built of durable reinforced concrete leveled by a rigid frame structure of four pillars along the sloping site. Large openings encourage the occupants to form a close bond with the unique location, while expansive terraces with open-air baths allow them to experience the natural surroundings at the comfort of their home.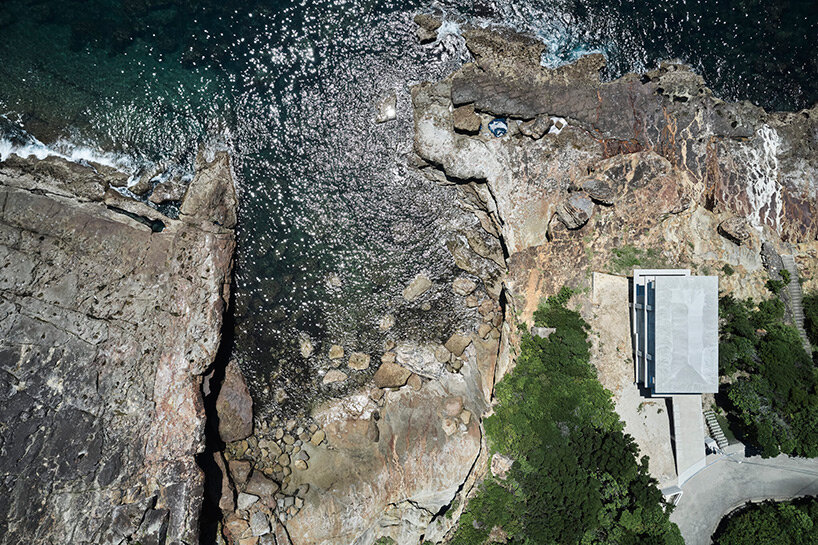 all images by Hiroki Kawata
The water-facing facades with extended openings invite dwellers to connect with the rich and harsh landscape of ocean and rock. 'From the site, you can see both the sunrise and the sunset, and at night, the starry sky spreads out before you. Large ships come and go quietly on the distant horizon, and sea turtles swim gently nearby on lucky days, but in stormy weather they are mercilessly exposed to wind and rain.' the team at Ninkipen! shares. The Osaka-based studio has mainly used unfinished cement in the interiors, too, for the walls, shelves, and floating staircase. The open-plan living area features a staggered floor plan, reflecting the sloping terrain. Each floor has windows facing the sea, and an open-air bath and a balcony open directly to the sea.
While enjoying the richness and harshness of nature in this place, we searched for a construction method that would respond to the huge bedrock consisting of strata of tens of millions of years ago. The frame is made of durable reinforced concrete, and a rigid frame structure consisting of four pillars is used in consideration of the relationship with the slope. The back side of the formwork is intentionally used to transfer the wood grain, and by giving it a scale-like variation, it has an organic delicacy in the mass. The bedrock that was exposed during construction is covered with trees again, and when the roof fades to black, the desired landscape finally emerges.