ottevaere and holohan lead a team in china
Architects Olivier Ottevaere and 
Donn Holohan design a a temporary outdoor theater dubbed '


Lantern' as part of a national bamboo building competition held in Anji, China.
The duo realizes the experimental structure to 'reconcile the uncertain and irregular nature of the material with the demands of a precisely defined geometry.' The resulting architecture is born of a summer workshop held in the Department of Architecture at the University of Hong Kong. Participants of this workshop were challenged to reimagine the contemporary applications of an ancient material practice, all while supporting local craftspeople.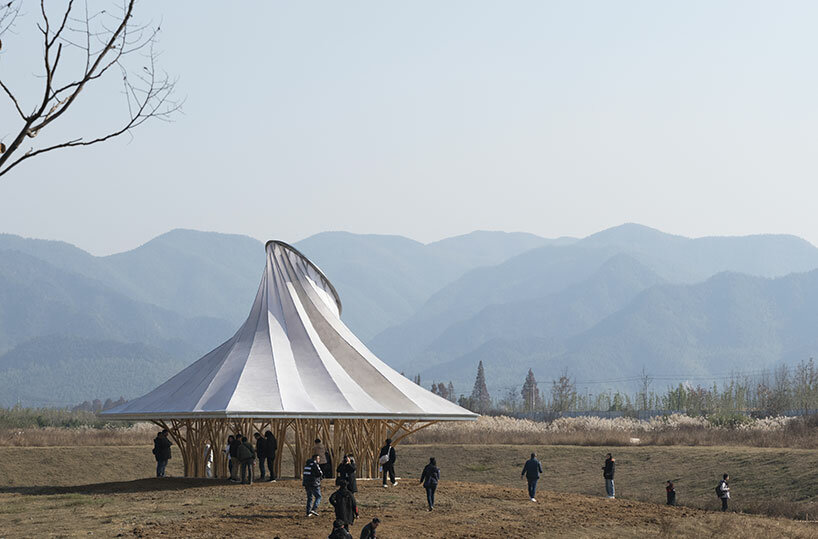 images courtesy Olivier Ottevaere
creating an ever-changing atmosphere
Led by architects Olivier Ottevaere and 
Donn Holohan, the design team carefully fits its Lantern theater into its site. The structure is located on a small island in the rural area outside Anji, and is thus surrounded on all sides by water and takes in sweeping views across the nearby mountains. The team frames these views with a circular array of columns, whose spacings progressively expand and contract to veil and reveal the landscape.
This 'curtain' of columns stands as a blurred threshold between the water and the theater's performance space, its radial orientation lending an ever-changing perspective of the site. An oculus overhead invites nature sunlight to enter deep into the space, enhancing the transforming experience as the light gradually shifts with the changing sun throughout the day.
the flexible construction process of 'lantern'
Olivier Ottevaere and 
Donn Holohan note that the design of the Lantern theater is informed by a set of precisely controlled tools. These include the steel ring which shapes the oculus, a square steel frame at the eaves, and an array of plates embedded within the structure's concrete foundation. Working with these tools as a framework, a team of local craftspeople individually straighten, steam bend, and join each bamboo frame in-situ.
Such a meticulous process allows the architecture to intuitively evolve, as the forms are affected by the idiosyncratic nature of both the bamboo and the tools. The theater thus represents an approach to construction which aims to 'elevate craft rather than supersede it, providing traditional craftspeople with the ability to realise complex new forms while maintaining a space for expression.'

the radial orientation of the bamboo elements creates an ever-changing view
an oculus overhead invites natural sunlight deep into the theater