Snow peak Field Suite Spa by Kengo Kuma
Within the landscape of Sanjo in Niigata, Japan, architect Kengo Kuma has completed a complex of spas, villas, and restaurants named 'Snow peak Field Suite Spa'. Aiming to foster a connection with nature, the architecture incorporates a distinctive roof constructed of firewood that echoes the ridgeline of the mountainous surroundings, creating a smooth transition from indoors to outdoors. In the resort, guests are welcome to experience bathing, dining, and recharging where nature forms a bond with them as one.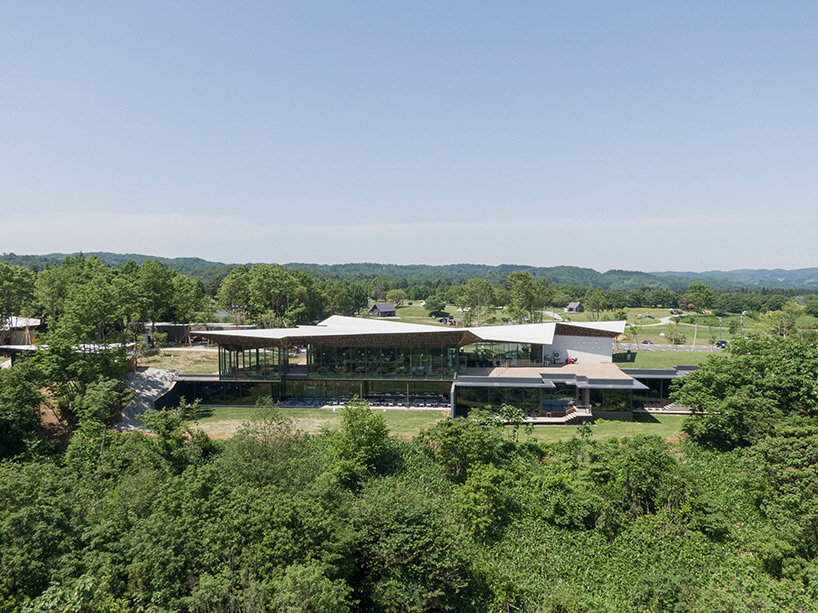 the spa resort settles within the natural landscape of Sanjo in Niigata, Japan
all images ©︎ Katsu Tanaka
the firewood roof symbolizes mountains & camping lifestyle
In Snow peak Field Suite Spa, Kengo Kuma incorporated a variety of waste materials and corten steel sourced from a well-known hardware factory in Sanjo, as well as mud walls painted with the site's soil. The roofing is the most striking feature of the project, precisely crafted to resemble the mountain ridgeline and, in particular, Awagatake, one of Japan's most iconic mountains, which soars in front of the structure. The Japanese architect covered the eaves of the structure with firewood in an attempt to depict the natural surroundings and camping lifestyle.
'By seamlessly connecting 20,000 firewoods inside and outside, we were able to give a 'wildness' that is not found in ordinary architecture.' Kengo Kuma shares.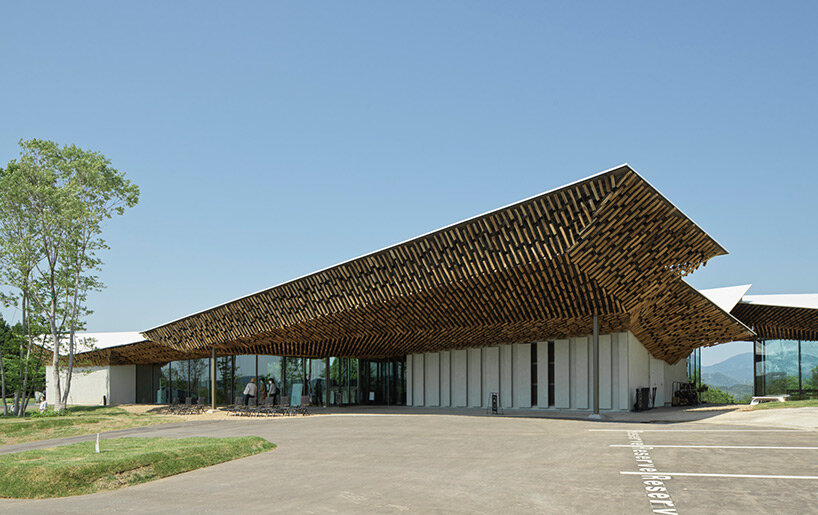 the architecture incorporates a distinctive roof made of firewood
bathing in the scenery
The spa resort integrates a natural hot spring that gushes within the natural landscape of Shimodago. The main public bath is designed to carve out vistas of the natural scenery for guests to enjoy from the indoor bath, open-air bath, washroom, and sauna. 'Bathe in the scenery, immerse yourself in the seasons' the Snow Peak Field Suite Spa invites on its official website. 'In a setting where you can feel the happiness of playing in the field with your five senses, you can slowly merge with nature.'
A quiet mood is created by the charcoal-colored wood that clambers around the sauna area. Featuring a glass-encased panoramic view, visitors may experience the beauty of the four seasons, such as the contrast between bright green in the spring and pure white snow in the winter. A 360-degree sauna heater is employed in the center of the sauna area, allowing visitors to enjoy time around the bonfire while also enjoying the sauna.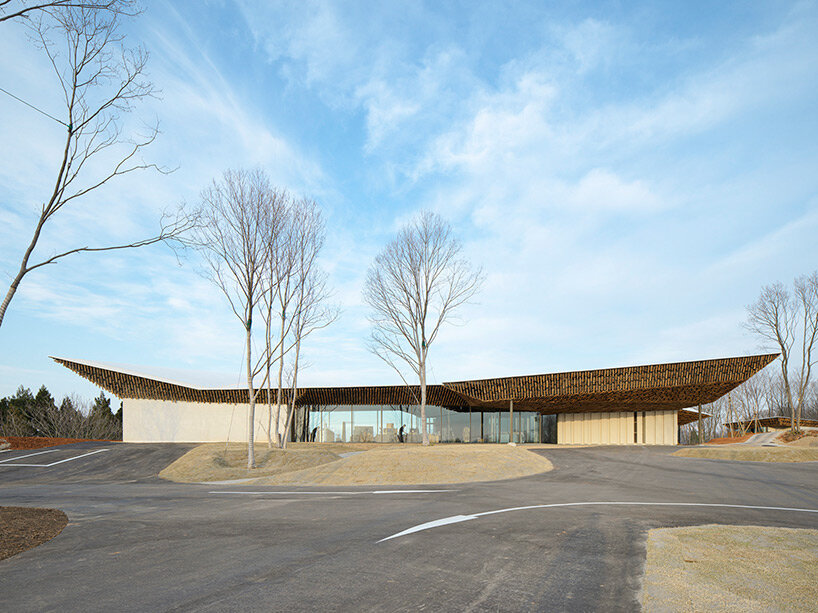 the roofing is the most striking feature of the project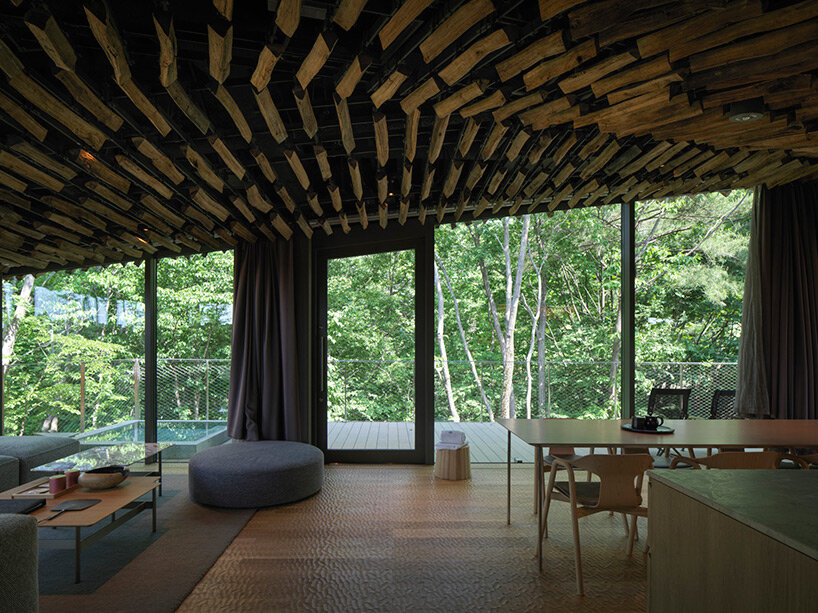 20,000 firewoods were installed both inside and outside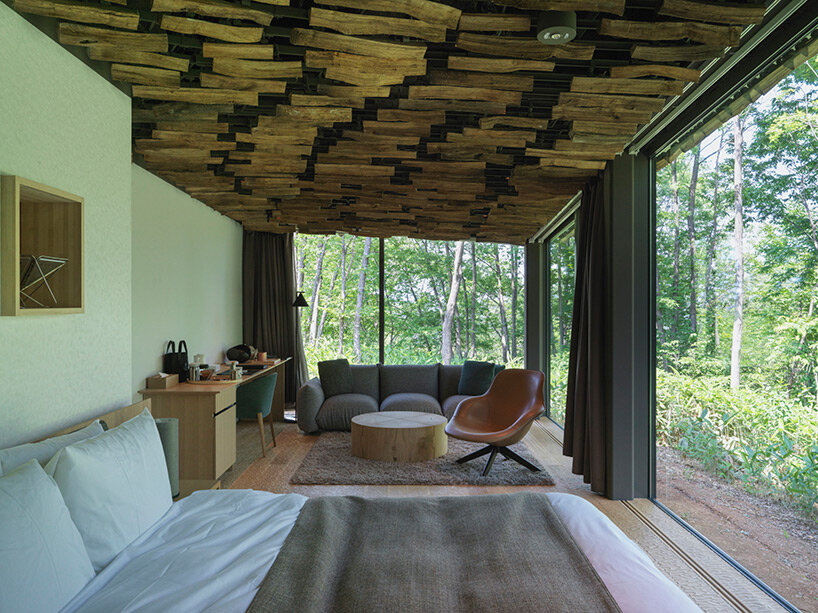 the design encourages guests to form a close bond with the natural surroundings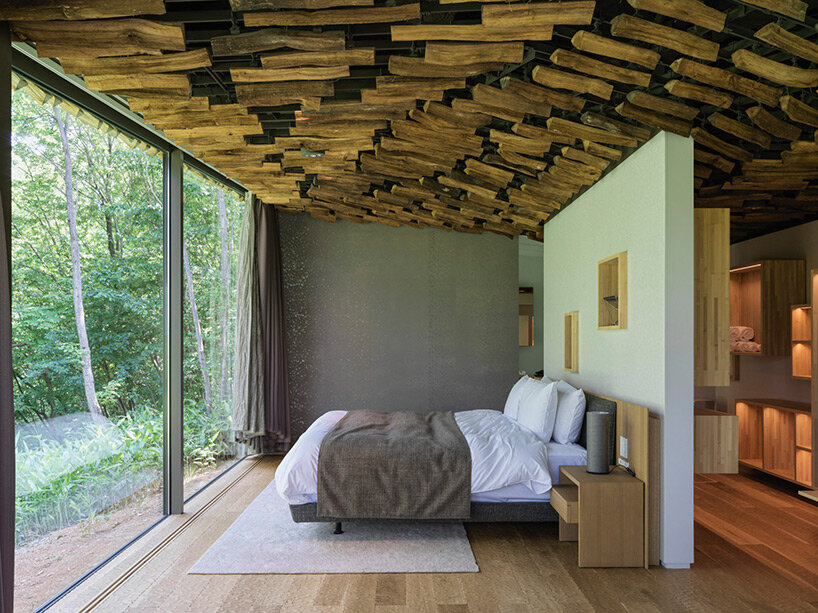 according to Kuma, the firewood roof adds a touch of 'wildness' to the architecture