FORMER MINERS CANTEEN REFURBISHMENT by Aurelien Chen
French Architect Aurelien Chen has collaborated with the China State Construction Engineering Corporation (CSCEC) to renovate a landmark 1970s building in Shijiazhuang, China, that formerly served as a canteen for workers at a coal mine. The renovation focuses on incorporating architectural elements from the building's history into the new design while translating colors, materials, and furniture from China's 'Red Era' into today.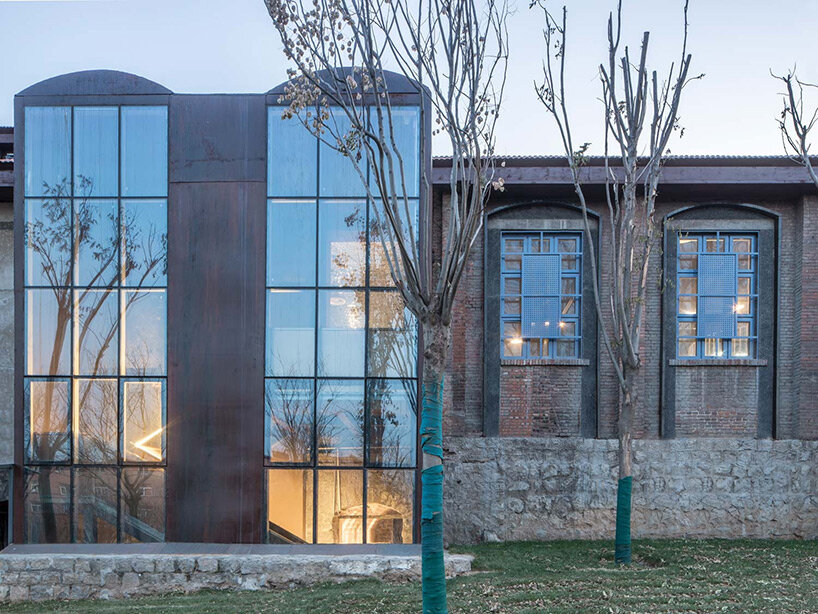 the landmark 1970s building served as a canteen for workers at a coal mine
all images courtesy of Aurelien Chen
historic walls as the central element of the renovation
The former canteen is located right next to the coal mine's former office buildings, which were built in 1912 by German architects and display typical Western architecture traits of the time, including thorough use of arch elements.
The run-down building was meticulously refurbished by Aurelien Chen, with minor adjustments to the facades to provide coherence with the adjoining historic structures. The renovation by the French architect aims to adapt the building to new functions such as a literary cafe, library, museum, exhibition, lectures, and events. The design emphasizes the historic walls, which still have traces of the 'Red Era' apparent on their surface, and makes them the focal point of the space.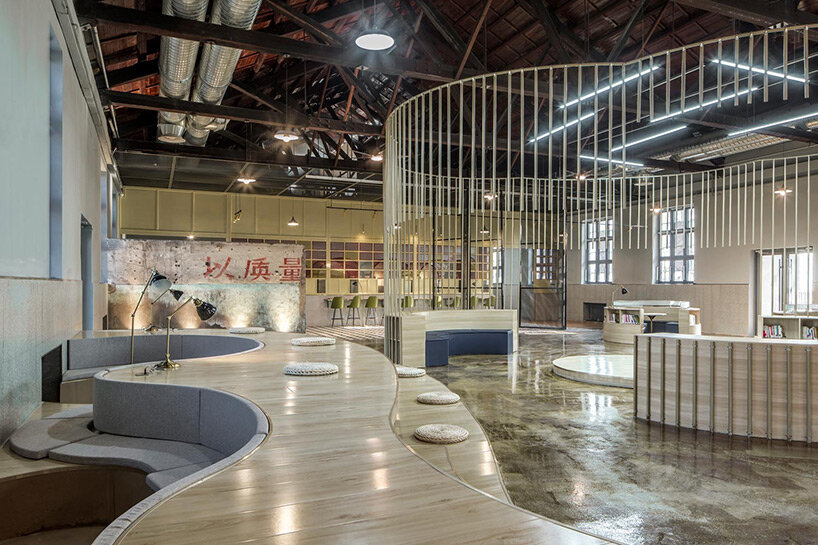 the main hall's furniture is curved, allowing for fluidity and flexibility of use
elements of china's red era and intensive use of arches
The linear partition wall that was originally the canteen counter becomes a reading desk, while the decaying wall where red era slogans were written in Chinese characters supports the bar. A colorful feature in the main hall recreates, in an abstract style, the pattern of a flower with a star put in the center. This pattern, typical of China's 'Red Era,' was originally found on the deteriorating ceiling, which had to be dismantled. This core feature serves several purposes: information desk, exhibition space, stage, rest area, 'round table' debate, and so on. The rest of the main hall's furniture is curved, allowing for fluidity and flexibility of use. Individual reading areas are grouped in concentric circles, inspired by the existing ceiling lamps, and bookshelves are discreetly integrated into the furniture.
Arches formed of stone vaults were uncovered inside the walls and basement area during the construction process, which the architects attempted to emphasize with the new design. A number of arch alcoves in the restaurant area create an intimate atmosphere while also connecting to the existing arches. The basement stairs were relocated inside a new arch-shaped component erected to the front. The two original stairwells have been left open and covered with glass, providing a strong visual contact between the main hall and the basement vaults.
project info:
name: Former Miners Canteen Refurbishment
architect: Aurelien Chen
design institute: China State Construction Engineering Corporation (CSCEC)
location: Shijiazhuang, Handan, China
area: 1,200 sqm
myrto katsikopoulou I designboom
sep 23, 2022